GVG series Gantry V Groover
CNC servo control
Quite a silent guide rail
Self-healing worktable
Material handling is convenient. Air-cooled without environmental pollution. 3+1 axis CNC servo control for fully automatic operation.
High pressure, reliable and firm fastening force, low noise, low energy consumption. Tin bronze oblique gear made of 45# forged steel.
Quite a silent rail drive, moving speed adjustable. The workbench has a self-healing function. CNC program design.
GVG series Gantry V Groover Technical Specification
GVG series Gantry V Groover
Grooving Plate Width
1250mm
1250mm
1250mm
1250mm
Grooving Plate Length
3200mm
4000mm
5000mm
6000mm
Grooving Plate Thickness
0.50-4.00mm
0.50-4.00mm
0.50-4.00mm
0.50-4.00mm
V-Groove Margin
6-8mm
6-8mm
6-8mm
6-8mm
X-axis Max moving Speed
70m/min
70m/min
70m/min
70m/min
X-axis Max. Return Speed
80m/min
80m/min
80m/min
80m/min
Y-axis Max Moving Speed
20m/min
20m/min
20m/min
20m/min
Y.Z-axes Repositioning Accuracy
±0.01mm
±0.01mm
±0.01mm
±0.01mm
X-axis Motor power
5.5KW
5.5KW
5.5KW
5.5KW
Y.Z-axes Motor Power
1KW
1KW
1KW
1KW
Dimension (mm)
5250x2300x1560
6050x2300x1560
7050x2300x1560
8050x2300x1560
Weight
8T
8.5T
9T
11T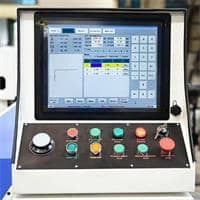 Controller – CNC Control, Touch Screen
Only input data with the keyboard and the processing program is needed in order to complete the slot.
According to the different materials, the processing speed can be adjusted with the knob to facilitate the operation.
The processing procedure can be monitored through the display screen. When the V grooving machine is abnormal, the alarm information will be shown on the screen and make it easy to repair.
Toothed Rack- Gear & Rack Drive
Precision copper gear and bevel rack drive are adopted, supplemented by heavy linear guide rail from Taiwan HIWIN, the moving speed can be adjusted by frequency conversion, and the cutting process is stable and efficient.
Blade – 4 knives
The "V" slot is processed by 4 knives, so the cutting quantity is evenly distributed to reduce the deformation of the workpiece.
Press Foot – Hydraulic pneumatic compression
Adopt hydraulic pneumatic compression with adjustable press materials and reliable compression function. The hydraulic system adds the accumulator compensation and overflow valve to make the motor work interval, which will not only save energy but also secure the hydraulic system.
Tool Carrier Transfer Device – Ball Screw
SFSR static ball screw and QR ball screw are used in the tool frame transfer device, so the precision is high.
Motor – Adopt triangle belt
The first level drive of the motor adopts a triangle belt due to the stretch of the triangle belt reduces the impact of a sudden stop and emergency return ensures the flexible operation of the equipment and extends the service life of the V grooving machine.
Self-healing Bed – Self-planer
With self-planer capability, the surface can be repaired after wear and tear, making the machine fresh.
Blade Carrier – Carry 4 knives
The blade carrier can carry four knives for grooving, and the cutting quantity is evenly distributed to reduce the deformation of the workpiece.
Spraying Cooling Systems – Extend blade life
A micro cooling system will extend blade life and reduce production costs.
High-quality Shaft Coupling
High-quality couplings not only connect two shafts, transfer motion and torque but are also used as safety devices to prevent machine overload.
Servo Motor – Ensure high accuracy
The moving speed, accuracy and stability can be ensured with the servo motor.
Drag Chain – Beam Moving
The drag chain will ensure the stable and high-speed moving of the beam.
Electromagnetic Valve – Solenoid Valves
High quality solenoid valves are used to ensure control accuracy and flexibility.
Working principle of V grooving machine
With Grooving
Inner Right Angle – No big round angle
Without Grooving
Defective – With big round angle
Application Industries
Our Machines are widely used in manufacturing Billboard, Advertising, Signs, Signage, Metal Letters, LED Letters, Kitchen Ware, Advertising Letters, Sheet Metal Processing, Metals Components and Parts, Ironware, Chassis, Racks & Cabinets Processing, Metal Crafts, Metal Art Ware, Elevator Panel Cutting, Hardware, Auto Parts, Glasses Frame, Electronic Parts, Nameplates, etc. ensure that it can operate possibly.
Quality Control
InRyant CNC Tech meets the demands of customers for high-quality products with a strict quality control system.
Our factory has advanced test equipment and a team of excellent mechanical engineers.
We also ensure the stability and traceability of the spare parts, so as to get excellent products with superior quality.
Through strict quality management, the factory controls potential quality risk from the beginning to the finishing of machines.
Packaging and shipment
1.Anti-collision package edge: All parts of the machine are covered with some soft materials, mainly the use of pearl wool
2.Fumigation wooden box: Our wooden box is fumigated, do not need to check the wood, saving the transport time.
3.Whole film packaging the machine: Avoid all damage that may occur during the delivery. Then we will cover the machine with plastic film tightly to avoid water and rust. The outermost is a wooden box with a fixed template.
FAQ
Q: There are so many machine types, which one should I choose?
A: Please communicate with us via inquiry or email, we can guide you.
Q: This is my first time buying your machine; I have no ideas about your machine's quality?
A: Each machine is strictly produced based on standard certifications. We are confident to tell customers that there is no need to worry about our quality. Welcome you visit our factory anytime
Q: When I got this machine, but I don't know how to use it. What should I do?
A: There are video and English manuals with the machine. If you still have any doubts, we can talk by telephone. we supply 24 hours online service.
Q: If some problems happen to this machine during the warranty period, what should I do?
A: We will supply free parts during the machine warranty period if the machine has some problems. While we also supply free life long after-sales service.
Q: Machine delivery time?
A: Within 20-30 working days after get your payment.