A press brake is a machine pressing tool for bending sheet and plate material, most commonly sheet metal. It forms predetermined bends by clamping the workpiece between a matching punch and die. Our range of NC and CNC sheet metal Press Brakes is extensive and of peerless quality. That means the very best machine for your requirements is right here at your fingertips. With years of knowledge and experience combining with our in-depth understanding of a wide range of applications, we strive to recommend the most suitable Press Brake for your specific needs. InRyant CNC Tech Press Brakes tonnage ranging from 30 to 2,000 ton machines.
Press Brake Bending Machine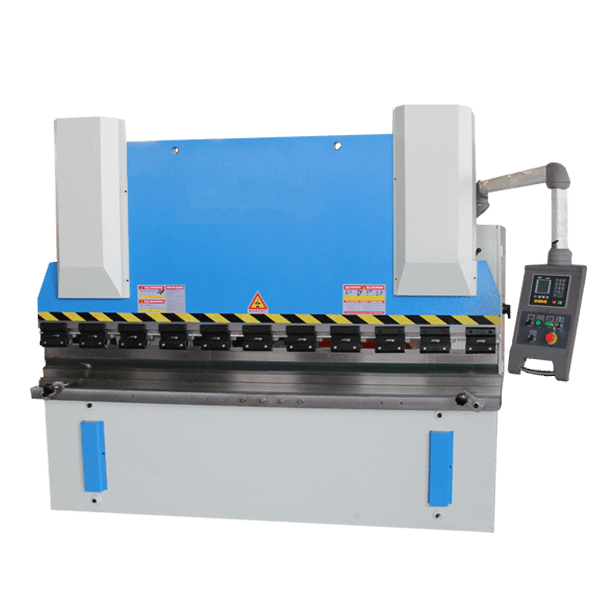 PBA Series Economic CNC Press Brake Machine with Estun E21
Back gauge control with ball screw and linear guide
Adjustable back gauge control with digital indicator and front-mounted manual roller
Y-axis is controlled by CNC
X controls the back gauge to move front and back
Manual R axis
Overall welded and processed structure
Hydraulic system and digital AC motor drive
CNC Estun E21
PBA series machine is a hydraulic press brake machine for bending mild steel and stainless steel. The folding length is available from 2.5m to 6m. This press brake is economic and robust, perfectly conceived for small workshops that need to fold light metal. It is simple to use and easily adaptable.
Bending Capacity: 40t – 300t
Bending Width:2500mm – 6000mm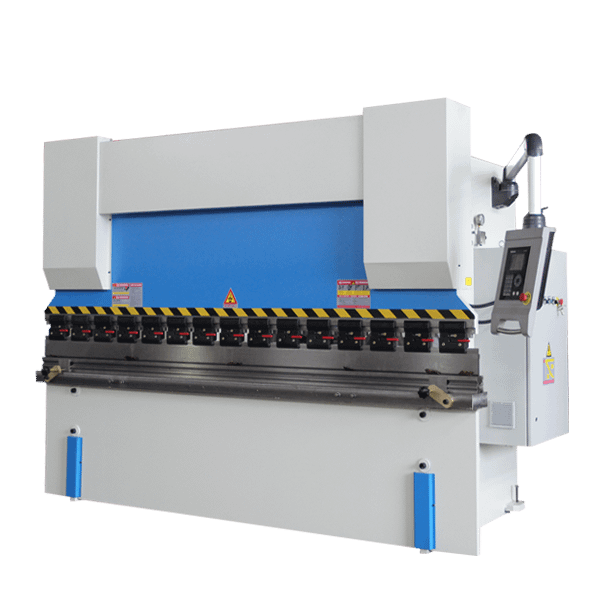 PB Series 2 axis CNC Press Brake Machine with Delem DA41S
Bright LCD display
Beam stop control
Backgauge control
Angle programming
Tool programming
Retract function
Up to 100 programs
 Up to 25 bends per program
PB Series CNC press brake is a 2 axis CNC hydraulic bender machine, which provides a user-friendly and versatile touch control solution for conventional press brake applications with multiple axes. Upon demand, it is possible to control the press beam, the backgauge as well as a flexible i/o configuration, based on state of the art electronics.
Bending Capacity: 40t – 300t
Bending Width:2500mm – 6000mm
PBS Series CNC Press Brake Machine with Delem DA53T
"Hot-key" touch navigation
10.1″ high resolution colour TFT
Up to 4 axes (Y1,Y2 + 2 aux. axes)
Crowning control
Tool / material / product library
Servo and frequency inverter control
Advanced Y-axis control algorithms for closed-loop as well as open-loop valves.
TandemLink (option)
USB memory stick interfacing
Profile-T offline software
PBS series range of hydraulic press brakes are available in 3 or 4 axis configurations and are fitted as standard with the Delem DA53T CNC controller CNC press brake machine.  InRyant bending machine brings you benefits through higher quality parts, faster cycle time, and lower operation and maintenance costs.
Bending Capacity: 40t – 300t
Bending Width:2500mm – 6000mm
PBXS 6+1 axis CNC Press Brake Machine with Delem DA66T
2D graphical touch screen programming mode
17″ high resolution colour TFT
Full Windows application suite
Delem Modusys compatibility (module scalability and adaptivity)
USB, peripheral interfacing
User specific application support within the control's multitasking environment
Sensor bending & correction interface Profile-TL offline software
PBXS CNC press brakes are fitted with the Delem DA66T Multi-axis controller, which is an advanced, user-friendly and intuitive
programming unit. While data input into the DA66T is very rapid, there is also the option of preparing the production offline on a PC with the software provided, enabling feasibility checks prior to production. Multi bend operations with complex forms can therefore be effectively managed reducing operator error and over or under bending. All axes are fully synchronized and accurate to 0.01mm utilizing proportional valve technology.
Bending Capacity: 40t – 300t
Bending Width:2500mm – 6000mm
PBT Series Tandem Press Brake Machine
Two press brakes of same tonnage working as a synchronized tandem
Same model press brakes work as a synchronized system
Synchronized operation of machines with single CNC control
PBT Series custom press brakes offer versatility for heavy-duty bending of large plate parts. Combine two same tonnage press brakes in a synchronized configuration for maximum productivity and flexibility. When two press brakes are used in tandem, both machines are controlled using one CNC control. For added flexibility, each machine in the tandem can also be used independently. These custom-built machines uniquely meet your heavy-duty bending needs with a choice of configurable options and automation possibilities.
Electro-hydraulic servo CNC press brake bending machine is a high-precision and efficient sheet metal bending equipment, which includes: rack, RAM (slider), workbench, cylinder, position detection system of hydraulic proportional servo system, CNC controller, Electrical control system
The CNC press brake machine realizes the bending function by controlling the slider stroke and rear stop.
When using the CNC bending machine, you only need to enter the number of pieces required for bending and the bending angle of each step, and the CNC bending machine will complete the bending according to the number of steps you set in the CNC controller.
The advanced CNC press brake machine mainly adopts electro-hydraulic servo system and grating ruler to form closed-loop control.
It has the characteristics of high control precision, high bending precision, and high relocation precision.
Cooperation Brand