Punching machines are developed for high flexibility and efficient processing of metal stampings. The main areas of application are for small and medium runs. Those machines are typically equipped with a linear die carrier (tool carrier) and quick change tools. Our punch presses machine includes Air Clutch Press Machine, Flywheel Press, hydraulic ironworker.
Punching Press Machine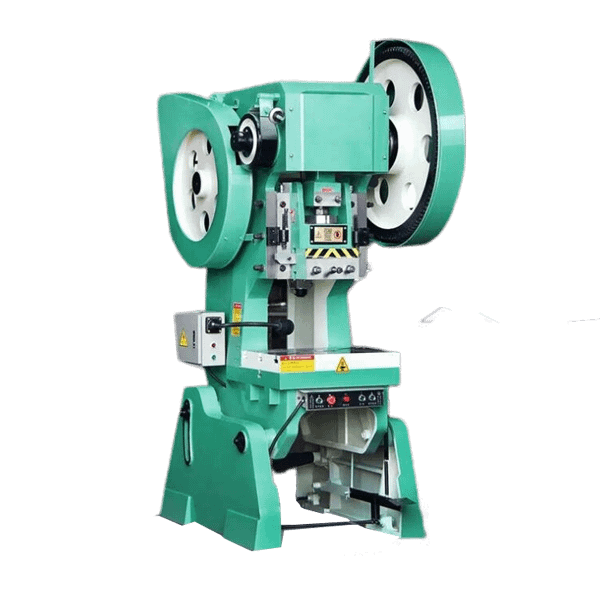 JB23 Series Mechanical Tilting Type Power Press Machine
Stable processing quality
High processing precision
Widely used
JB23 Series Tilting Type Power Press Machine is a C-type mechanical inclinable power press. The tilting press can be widely used in various cold stamping processes such as blanking, punching, shallow drawing, forming, and bending.
Punching Pressure: 10t – 80t
J21 Series Fixed Bed Power Press Machine
High strength, good rigidity and stable accuracy
Easy to operate
Simple structure and easy maintenance
J21 series fixed bed power press mainly suitable for cold stamping processes like blanking, punching, bending, drawing, shearing, forming, etc.
Punching Pressure: 63t – 200t
J21S Series Deep throat Power Press Machine
Small gear noise
Time and cost-saving
High processing accuracy
J21S deep throat punching machine is also called deep neck punching or deep-sea mouth punching machine. It refers to the distance from the center of the die hole of the punch to the back wall plate. The throat depth is 300mm, 500mm, 800mm, and 1250mm, which should be customized according to actual production needs.
Punching Pressure: 10t – 200t
Q35Y Series Hydraulic Ironworker Machine
Cost-effective
Easy operation
Energy Saving
Q35Y Series Hydraulic Ironworker Machine is also been called the combined punching and shearing machine, is one kind of machine tool which combined the function of metal cutting, hole punching, plate cutting, notching, and bending.
Punching Pressure: 60t – 200t
Cooperation Brand