J21 Series Fixed Bed Power Press Machine
High strength, good rigidity and stable accuracy
Easy to operate
Simple structure and easy maintenance
J21 series fixed bed power press mainly suitable for cold stamping processes like blanking, punching, bending, drawing, shearing, forming, etc.
Punching Pressure: 63t –160t
J21 Power Press Machine Features
Adopts horizontally placed crankshaft.
Rigid rotated bond clutch.
Manual shut height adjustment with scale display
The type with "A" equipped with an emergency stop device, which could make the slide stop ai 0°~135° area and optional equipped with light curtain protection as well.
The type with "D" adopts a dual rotated bond structure to overcome rebond of punching effectively.
JC21-160 is equipped with a pneumatic clutch to make slides stop at any position.
J21 Power Press Machine Technical Specification
Model
J21-63A
JD21-63A
J21-80A
JD21-80A
Capacity
kN
630
630
800
800
Nominal Force
mm
8
8
9
9
Slide Stroke
mm
120
120
130
130
SPM
min

-1

50
50
45
45
Max. Die Height
mm
300
300
350
320
Die Height Adjustment
mm
80
80
100
100
Between Slide Center & Frame
mm
300
300
300
300
Bolster (FBxLR)
mm
570×760
570×760
580×860
580×860
Bolster Opening (Up Hole Dia.xDpthxLow Hole Dia.)
mm
Φ200x45xΦ180
Φ200x45xΦ180
Φ200x45xΦ180
Φ200x45xΦ180
Bolster Thickness
mm
90
90
100
100
Bolster Opening (Dia.xFBxLR)
mm
Casting Φ280x220x320
Φ280x220x320
Casting Φ280x220x380
Φ280x220x380
Steel 220×250
Steel 220×260
Slide Area (FBxLR)
mm
280×320
280×320
280×380
280×380
Shank Hole (Dia.xDpth)
mm
Φ50×80
Φ50×80
Φ60×75
Φ60×75
Between Columns
mm
Steel 470
320
Steel 515
410
Casting 320
Casting 410
Motor Power
kW
5.5
5.5
7.5
7.5
Outline Size (FBxLRxH)
mm
1550x1410x2610
1550x1410x2610
1610x1470x2680
1925x1470x2675
Model
JD21-100A
JD21-125A
JC21-160
Capacity
kN
1000
1250
1600
Nominal Force
mm
10
10
6
Slide Stroke
mm
140
140
160
SPM
min

-1

38
38
40
Max. Die Height
mm
320
320
350
Die Height Adjustment
mm
100
100
100
Between Slide Center & Frame
mm
380
380
380
Bolster (FBxLR)
mm
710×1100
720×1200
740×1300
Bolster Opening (Up Hole Dia.xDpthxLow Hole Dia.)
mm
Φ260x50xΦ220
Φ260x50xΦ220
Φ300x50xΦ220
Bolster Thickness
mm
120
120
150
Bolster Opening (Dia.xFBxLR)
mm
Casting Φ320x250x420
Casting Φ320x250x420
Φ470
Steel 260×290
Steel 260×290
Slide Area (FBxLR)
mm
420×560
420×560
580×770
Shank Hole (Dia.xDpth)
mm
Φ60×80
Φ60×80
Φ65×85
Between Columns
mm
Steel 630
Steel 620
730
Casting 580
Casting 580
Motor Power
kW
7.5
11
15
Outline Size (FBxLRxH)
mm
1960x1335x2850
2060x1600x3000
2200x1550x3160
Main Components of J21 Power Press Machine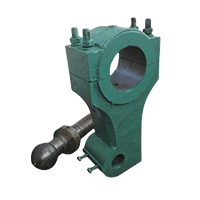 Crankshaft
Ram and punch head
Gear
Fly Wheel
Copper Sleeve
working table
Working key
Brake Belt
Press Footpedal
Electric Box
Motor
Die Height Ruler
Control button
Connecting rod
Power press lamp
Application Industries
Stamping production is mainly for sheet metal. Through the mold, can make drop, punch, molding, deep, dressing, finishing, shaping, riveting and extrusion parts, etc. , widely used in various fields. Such as our switch sockets, cups, cupboards, dishes, computer chassis, and even missile aircraft… There are a lot of accessories that can be produced by mold using punches.
Quality Control
InRyant CNC Tech meets the demands of customers for high-quality products with a strict quality control system.
Our factory has advanced test equipment and a team of excellent mechanical engineers.
We also ensure the stability and traceability of the spare parts, so as to get excellent products with superior quality.
Through strict quality management, the factory controls potential quality risk from the beginning to the finishing of machines.
Packaging and shipment
1.Anti-collision package edge: All parts of the machine are covered with some soft materials, mainly the use of pearl wool
2.Fumigation wooden box: Our wooden box is fumigated, do not need to check the wood, saving the transport time.
3.Whole film packaging the machine: Avoid all damage that may occur during the delivery. Then we will cover the machine with plastic film tightly to avoid water and rust. The outermost is a wooden box with a fixed template.
FAQ
Q: There are so many machine types, which one should I choose?
A: Please communicate with us via inquiry or email, we can guide you.
Q: This is my first time buying your machine; I have no ideas about your machine's quality?
A: Each machine is strictly produced based on standard certifications. We are confident to tell customers that there is no need to worry about our quality. Welcome you visit our factory anytime
Q: When I got this machine, but I don't know how to use it. What should I do?
A: There are video and English manuals with the machine. If you still have any doubts, we can talk by telephone. we supply 24 hours online service.
Q: If some problems happen to this machine during the warranty period, what should I do?
A: We will supply free parts during the machine warranty period if the machine has some problems. While we also supply free life long after-sales service.
Q: Machine delivery time?
A: Within 20-30 working days after get your payment.