PBS Series CNC Press Brake Machine with Delem DA53T
"Hot-key" touch navigation
10.1″ high resolution colour TFT
Up to 4 axes (Y1,Y2 + 2 aux. axes)
Crowning control
Tool / material / product library
Servo and frequency inverter control
Advanced Y-axis control algorithms for closed-loop as well as open-loop valves.
TandemLink (option)
USB memory stick interfacing
Profile-T offline software
PBS series range of hydraulic press brakes are available in 3 or 4 axis configurations and are fitted as standard with the Delem DA53T CNC controller CNC press brake machine. InRyant bending machine brings you benefits through higher quality parts, faster cycle time, and lower operation and maintenance costs.
Bending Capacity: 40t – 300t
Bending Width:2500mm – 6000mm
PBS Series CNC Press Brake Machine Features
Strong rigid welded Monoblock frame able to withstand deflection under load.
Front light guards
User-friendly  Delem DA53T CNC system with Tool/material/product library
Profile-T offline software.
Ideal for multi-bending of complex operations, especially where volume production with accurate repeatability is required.
Bend accuracy is at least five times higher than conventional press brakes.
Fully synchronized Y1 and Y2 axis, accurate to 0.01mm with proportional valve technology.
Hydraulic ram travel guided in low friction slideways.
Fast CNC back gauge with AC servo drive.
Euro-style top clamps with intermediaries and quick release tool clamps.
Sectionalized gooseneck top tool.
Sectionalized multi-vee bottom die.
High stroke and daylight opening.
Deep throat design.
Two front support arms on the adjustable linear rail.
Dual footswitch console with emergency stop.
Swiveling pendant arm.
Rearguard with photocell safety beam.
Ventilated electrical cabinet.
Hydraulic Press Brake Structure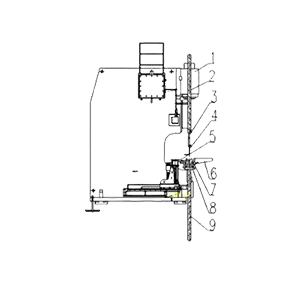 1. Hydraulic Oil Cylinder
2. Slider
3. Stage Die
4. Top Punch
5. Backgauge
6. Front Support
7. Bottom Die
8. Convex Workbench
9.  Workbench
10. Feedback Arm
11. CNC Controller
12. Electrical Cabinet
13. Machine Frame
14. Protection Guard
15. Hydraulic Servo/System
16. Hydraulic System
Generally, the press brake machine including four main parts:
Mechanical parts
Electrical parts.
Hydraulic part.
NC/CNC controller
Standard Configuration of PBA Series Hydraulic Press Brake
Delem DA53T Controller for CNC Press Brake Machine
The new compact DA-53T adds a state-of-the-art complete touch control solution for synchronized press brakes. Offering easiest CNC programming based on the Delem graphical touch screen user interface.
Siemens Motor
From the German brand Siemens motors improve the life of the sheet metal bending machine, and the press brake machine operates in a low noise environment.
Sunny Pump
The oil pump adopts a (USA SUNNY) gear pump, which can withstand high pressure and low noise.
Hydraulic Oil Cylinder
lt is recommended to use antiwear hydraulic oil ISO VG46#(the average value of viscosity is 46mm2/s).
Hydraulic Valve Bank
Hydraulic system (Bosch Rexroth) slider can achieve rapid decline, slow down the speed of bending work, and quick return upward, downward and the like during the operation stop of the slider.
Top tool quick release clamps
The quick clamps have the advantages of high precision, reasonable structure, stable clamping. We greatly shorten the time of press brake upper punch adjustment.
Press Brake Toolings
The toolings (punch and die) of the press brake machine are made from Alloy material(42CrMo), and the hardness can reach 42 degrees to ensure the service life of the molds.
Press Brake Electrical System
The power supply of the CNC bending machine adopts a three-phase AC 50HZ380V power supply. After the AC voltage is output from the internal transformer of the system, it can be directly used for the operation of the main motor, and can also be used for the rear gear servo and equipment lighting. The other group forms two groups of DC 24V after rectification, one group is used by CNC controller, and the other group is used by control loop.
Open Door Power off Switch
Once the worker opens the electric cabinet door, the machine will stop immediately.
Front Support
The sheets can be held on the support to ensure that they are pushed one at a time, which is more convenient for bending work.
Press Brake oil Seal Ring
The sealing ring is selected from NOK, which has good sealing performance, reliable work and long life.
Ball Screw and linear guide
The backgauge is positioned by a precision ball screw and supported by a high-precision linear guide
Press Brake Adjustable Stop Finger
The upper and lower adjustable fine-tuning fingers with higher precision are adopted, and the double linear guide rails on the beam move left and right to ensure the accuracy of the fingers moving to any part in the left and right directions.
Grating scale close-looped device
Imported internationally renowned flat brand electro-hydraulic servo valve and grating ruler constitute a closed-loop control mode
Safety Fence
Protective guards on each side can protect the worker during operation.
Servo Motor
The backgauge use a servo-motor to drive a ball screw or belt drive to exert force on the ram to make it move vertically.
Tubing Connector
The oil pipeline adopts a combination of compression fittings and galvanized cold-drawn pipes, eliminating the need to replace the sealing ring to overcome oil leakage.
Safety Light Curtain
CNC Press Brake Machine Crowing
Optional Configuration of PBA Series Hydraulic Press Brake
KYOKKO's fast clamp
DSP laser protection
Front & rear light curtain protection
Wila's hydraulic tool holding system
Hydraulic Crowning
Backgauge additional X.R,Z-axis
Yaskawa servo motor and drive
Delem DA56s,DA58T controller
CybTouch 8P, CybTouch 12PS Controller
Customized punches and dies
BOKE backgauge
Hydraulic Press Brake Technical Specification
Model
Bending
Bending
 Column
Throat
Slider
Daylight
X-axis
Back
Main
L*W*H
Weight
Force
Length
Distance
Depth
Stroke
(mm)
Max.
stopper
Motor
(mm)
(T)
(kn)
(mm)
(mm)
(mm)
(mm)
Distance
(pcs)
(kw)
(mm)
WE67K-63T/2500
630
2500
1900
350
170
380
500
2
5.5
3100*1450*2050
5.8
WE67K-100T/3200
1000
3200
2700
400
200
420
500
3
7.5
3500*1580*2400
8.5
WE67K-110T/3200
1100
3200
2700
400
200
420
500
3
7.5
3500*1580*2400
8.8
WE67K-125T/3200
1250
3200
2700
400
200
420
500
3
11
3500*1580*2400
9.5
WE67K-135T/3200
1350
3200
2700
400
200
420
500
3
11
3500*1580*2400
9.9
WE67K-160T/3200
1600
3200
2700
400
200
420
500
3
11
3500*1650*2500
11
WE67K-175T/3200
1750
3200
2700
400
200
420
500
3
11
3500*1650*2500
11
WE67K-200T/3200
2000
3200
2700
400
200
420
500
3
15
3500*1680*2550
14
WE67K-250T/3200
2500
3200
2700
400
200
420
500
3
15
3500*1700*2600
15.5
WE67K-300T/3200
3000
3200
2700
400
200
420
500
3
22
3500*1800*2730
16.8
WE67K-400T/4000
4000
4000
3500
400
320
420
500
4
30
4500*2450*3500
31
WE67K-500T/6000
5000
5000
4900
500
320
600
800
6
37
6500*2810*4500
53
WE67K-600T/6000
6000
6000
4900
500
320
600
800
6
45
6500*2910*5100
68
Bending Sample of Hydraulic Press Brake Machine
Application Industries
Our Machines are widely used in manufacturing Billboard, Advertising, Signs, Signage, Metal Letters, LED Letters, Kitchen Ware, Advertising Letters, Sheet Metal Processing, Metals Components and Parts, Ironware, Chassis, Racks & Cabinets Processing, Metal Crafts, Metal Art Ware, Elevator Panel Cutting, Hardware, Auto Parts, Glasses Frame, Electronic Parts, Nameplates, etc. ensure that it can operate possibly during the laser cutting process.
Quality Control
InRyant CNC Tech meets the demands of customers for high-quality products with a strict quality control system.
Our factory has advanced test equipment and a team of excellent mechanical engineers.
We also ensure the stability and traceability of the spare parts, so as to get excellent products with superior quality.
Through strict quality management, the factory controls potential quality risk from the beginning to the finishing of machines.
Packaging and shipment
1.Anti-collision package edge: All parts of the machine are covered with some soft materials, mainly the use of pearl wool
2.Fumigation wooden box: Our wooden box is fumigated, do not need to check the wood, saving the transport time.
3.Whole film packaging the machine: Avoid all damage that may occur during the delivery. Then we will cover the machine with plastic film tightly to avoid water and rust. The outermost is a wooden box with a fixed template.
FAQ
Q: There are so many machine types, which one should I choose?
A: Please communicate with us via inquiry or email, we can guide you.
Q: This is my first time buying your machine; I have no ideas about your machine's quality?
A: Each machine is strictly produced based on standard certifications. We are confident to tell customers that there is no need to worry about our quality. Welcome you visit our factory anytime
Q: When I got this machine, but I don't know how to use it. What should I do?
A: There are video and English manuals with the machine. If you still have any doubts, we can talk by telephone. we supply 24 hours online service.
Q: If some problems happen to this machine during the warranty period, what should I do?
A: We will supply free parts during the machine warranty period if the machine has some problems. While we also supply free life long after-sales service.
Q: Machine delivery time?
A: Within 20-30 working days after get your payment.