Single-head Hydraulic Tube Bender
NC high-performance hydraulic tube bender, microcomputer chip control, multi-program, multi-angle setting, and simple to operate. Can be used in the exhaust pipe, seats, bumpers, bathroom plumbing pipe processing industry production, with high yield and unified product.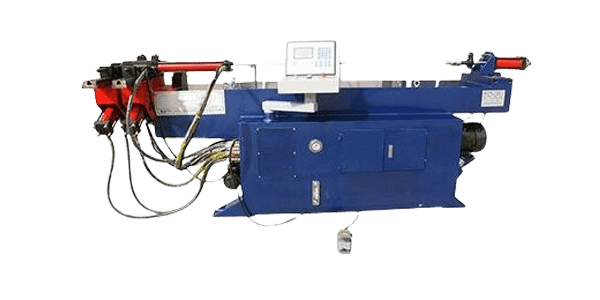 Double-head Hydraulic Tube Bender
Mass production of symmetrical products on both sides
The tube bender structure is stable and strong, occupies the small space
The bending arm adopts the inner-hidden elbow section crank, the steel is strong, the bending effect is good, the safety performance is high
Rapid adjustment design for the left and right chassis, strong locking force, during bending process the center distance between the two axes is not easy to offset
The quick adjustment design of the top base facilitates the adjustment
Manual Three-dimensional Tube Bender
Economical three-dimensional CNC high-precision pipe bending machine, applicable to automobile bumper, industrial boilers, air-conditioning tubes, radiators and other pipeline processing.
PLC control manual three-dimensional pipe bender
X, Y, Z three coordinate input or Y, B, C work value input
Feeding: Manual Feeding
Turning angle: Servo rotating tube
Bending mode: Hydraulic bending
Touchscreen Control
With manual, semi-automatic function and automatic counting function of pipe fittings
Has the password protection function, prevents the outsider to change and starts the machine privately
CNC Pipe Bender
CNC servo tube bending machine with the multi-layer die, using servo feeding plus linear guide and the ball screw, coupled with the pneumatic clamping device, can meet the stringent requirements of the tube bending.
It featured fast pipe bending speed, high precision, powerful, using three-dimensional simulation software, effectively avoid the interference in the pipe bending process, to achieve the high speed, high-precision, high production for three-dimensional pipe bending; Strong push, can achieve the smallest clamping length and the smallest bending radius, but also can complete the bending formation with any radians, which the multi-function with only one machine, small error.
It is widely used in aerospace, military, automotive manufacturing and other pipeline processing industry.
Application Industries
Metal construction, metalwork, and general machine construction, pipework construction, hydraulics, plant construction.