W1 Series Handheld Laser Welding Machine
Smaller size, flexible and convenient
High-quality welding, firm welds
Saving usage and maintenance costs
W1 series Handheld laser welding machine is a versatile handheld fiber laser welder, including continuous wave/pulse output mode. The laser welder is suitable for welding stainless steel, galvanized, aluminum and iron plates.
Laser power:1000w, 1500w, 2000W
W1 Series Handheld Laser Welding Machine
Efficiency increased by 2-10 times
Three security protection
No welding experience people can get started in one day
Saving at least 2 welding labor cost
Photoelectric conversion rate up to 30%
Human-computer interface operation
The hand-held laser welding machine is very popular welding equipment in recent years. For many manufacturers who are still using argon arc welding, handheld laser welding equipment is a new product, and it is also a new type of welding equipment we want to try. Today we will take you to introduce handheld laser welding equipment and answer questions for manufacturers who are still hesitating.
Flexible and convenient welding
Hand-held laser welding joint, light and flexible, can achieve any part of the workpiece welding, durable work is not easy to fatigue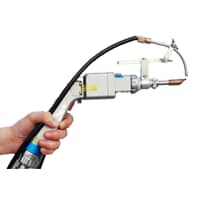 Handheld automatic wire feeding laser welding head (upper wire feeding)
Handheld automatic wire feeding laser welding head (down wire feeding)
Hand-held swing laser welding head
Cover a small space, easy to move
The top is equipped with a push-pull handle, and the bottom is a large universal caster (lockable)
The handheld Laser Welder Welding Parameter
| Material | Aluminum | Stainless Steel | Mild Carbon Steel | Galvanized Sheet |
| --- | --- | --- | --- | --- |
| 1000w | 1.0mm | 1.5mm | 1.5mm | 1.2mm |
| 1500w | 1.2mm | 2.0mm | 2.0mm | 1.5mm |
| 2000w | 2.5mm | 3.0mm | 3.0mm | 2.5mm |
Welding Sample of Fiber Laser Welder Machine
Application Industries
Fiber Laser Welder Machine mainly for large workpieces, fixed positions such as inner right angles, outer right angles, flat welds, small heat-affected areas during welding, small deformation, large welding depth, and firm welding. It is a new and flexible welding process for the long-distance welding of large workpieces.
Long-distance spot welding, overlap welding, full welding, sealing welding of large and medium-sized sheet metal, cabinets, chassis, aluminum alloy door and window frames, stainless steel washbasins and other large workpieces.
Quality Control
InRyant CNC Tech meets the demands of customers for high-quality products with a strict quality control system.
Our factory has advanced test equipment and a team of excellent mechanical engineers.
We also ensure the stability and traceability of the spare parts, so as to get excellent products with superior quality.
Through strict quality management, the factory controls potential quality risk from the beginning to the finishing of machines.
Packaging and shipment
1.Anti-collision package edge: All parts of the machine are covered with some soft materials, mainly the use of pearl wool
2.Fumigation wooden box: Our wooden box is fumigated, do not need to check the wood, saving the transport time.
3.Whole film packaging the machine: Avoid all damage that may occur during the delivery. Then we will cover the machine with plastic film tightly to avoid water and rust. The outermost is a wooden box with a fixed template.
FAQ
Q: There are so many machine types, which one should I choose?
A: Please communicate with us via inquiry or email, we can guide you.
Q: This is my first time buying your machine; I have no ideas about your fiber laser cutting machine's quality?
A: Each machine is strictly produced based on standard certifications. We are confident to tell customers that there is no need to worry about our quality. Welcome you visit our factory anytime
Q: When I got this machine, but I don't know how to use it. What should I do?
A: There are video and English manuals with the machine. If you still have any doubts, we can talk by telephone. we supply 24 hours online service.
Q: If some problems happen to this machine during the warranty period, what should I do?
A: We will supply free parts during the machine warranty period if the machine has some problems. While we also supply free life long after-sales service.
Q: Machine delivery time?
A: Within 20-30 working days after get your payment.