What Is CNC Laser Cutting Machine?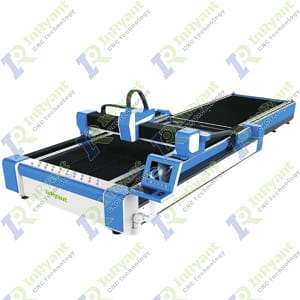 Laser cutting is a type of production that uses a laser to cut different metals. The laser has a high energy beam that easily burns through the material. Laser cutting can be used on materials such as metal, aluminium, plastic, wood, rubber, etc. Lasers use computer numerically controlled programming (CNC) to determine the shape and position ls of the cutouts. Material thicknesses of up to 20mm can be laser cut. There are advantages and disadvantages to using laser cutting. CO2 lasers are more traditional and can cut thicker materials but do not deliver such an accurate cut as fibre lasers. Fibre lasers can generally cut thinner materials and have much higher cutting speeds than CO2.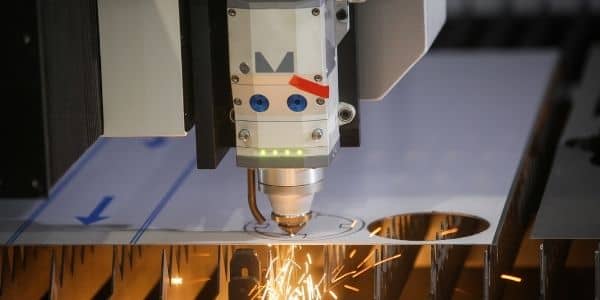 Advantages and Disadvantages
Advantages of laser cutting over cutting mechanically include better work holding, reduced workpiece contamination, better precision and reduced chance of warping as the heat-affected zone is small. Some disadvantages are that lasercutting does not always cut well with some materials (for example not all aluminum) and it is not always consistent. Despite the disadvantages, laser cutting is highly efficient and cost-effective.
Tolerances
General Tolerances
If a drawing or specification sheet has not been provided by the customer, we will manufacture the product from the model to the specifications listed here. Sharp edges will be broken and deburred by default. Critical edges that must be left sharp should be noted and specified on a print.
Tolerances

Linear dimensions excluding locations to bends
Material Restrictions
Materials that are not suitable for laser cutting include mirrored or reflective materials, Masonite boards, composites containing PVC.
Acceptable Materials
Generally, the following materials are suitable for laser cutting: metal, stainless steel, some thicknesses of aluminium, wood and some plastics.
Localized hardening
Localised hardening takes place on the edges where the laser has cut. This hardening produces a durable and smooth edge without the need for finishing after using the laser cutter
Distortion
A heat-affected zone (HAZ) is produced during laser cutting. In carbon steel, the higher the hardenability, the greater the HAZ. Distortion from laser processing is a result of the sudden rise in temperature of the material near the cutting zone. Distortion is also created by the rapid solidification of the cutting zone. In addition, distortion also can be attributed to the rapid solidification of material remaining on the sides of the cut.
During laser cutting a portion of the material is burnt away when the laser cuts through, leaving a small gap. This 'gap' is known as the laser kerf and ranges from 0.08 – 0.45mm depending on the material type, thickness and other conditional factors. A minimum distance of 1-2mm between parts needs to be left to avoid accidental crossover cutting.
It is also advised to keep parts 2-5mm away from the edge of the material due to some sheets being warped or slightly off in their sizing. One should always cut parts in the boundary of the sheet size and not use the sheet edges as a border.