Y27 Series Deep Drawing Hydraulic Press
Fast response speed and high transmission efficiency
High precision, long lifetime and high reliability
Quick stretching and forming of sheet metal
Y27 Series Deep Drawing Hydraulic Press is mainly suitable for sheet metal part processes such as stretching, bending, crimping, forming, blanking, punching, correction, etc.
Machines Capacity: 200t – 1250t
Y27 Series Deep Drawing Hydraulic Press Machine Features
1.Oil tank has been set forced cooling filtering system(industrial plate-type water cooling device, cooling by circulating water, oil temperature≤55℃,make sure machine can steadily pressing in 24 hours.)
2.The hydraulic system adopts an integrated cartridge valve control system with fast response speed and high transmission efficiency.
3.The oil tank is equipped with an air filter to communicate with the outside to ensure that the hydraulic oil is not polluted.
4.The connection between the filling valve and the fuel tank uses a flexible joint to prevent vibration from being transmitted to the fuel tank and completely solve the problem of oil leakage.
Y71 Series Composite SMC hydraulic press Technical Specification
Name
Unit
Value
Value
Value
Value
Model
Y27-1250T
Y27-1000T
Y27-800T
Y27-200T
Main cylinder pressure
KN
12500
1000
8000
2000
Die Cushion force
KN
4000
3000
2500
500
Max. liquid pressure
MPa
25
25
25
25
Daylight
mm
2200
2100
2100
1250
Main cylinder Stroke
mm
1200
1200
1200
800
Die Cushion Stroke
mm
350
350
350
250
Worktable size
LR
mm
3500
3500
3500
2300
FB
mm
2250
2250
2250
1300
Die cushion size
LR
mm
2620
2620
2620
1720
FB
mm
1720
1720
1720
1070
Slider speed
Down
mm/s
500
500
500
200
Return
mm/s
300
300
300
150
Working
mm/s
10-35
10-35
10-35
10-20
Ejection speed
Ejection
mm/s
55
55
55
50
Return
mm/s
80
80
80
60
Worktable moving distance
mm
2250
2250
2250
1300
Workbench load
T
40
40
40
20
Servo motor
Kw
140
110
80+18
22
Weight of machine
T
130
110
90
20
Main Components of Y27 Series Deep Drawing Hydraulic Press Machine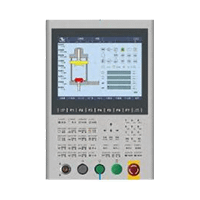 Siemens HMI
Siemens PLC
YASKAWA Servo Driver
Servo Motor
Safety Valve
Oil level
Oil temperature Warning
electrical part
High-quality Shaft Coupling
Safety blocks
Lock nuts
Electromagnetic Valve – Solenoid Valves
Pillars
Piston
Application Industries
Our hydraulic press machines are suitable for composite material moulding:
SMC (Sheet Moulding Compound) components
BMC (Bulk Moulding Compound) components
RTM (Resin Transfer Moulding) components
Different systems are used, depending on the component requirements and the production process. The result: Best parts quality and maximum production reliability – for greater economic efficiency and maximum productivity.
Quality Control
InRyant CNC Tech meets the demands of customers for high-quality products with a strict quality control system.
Our factory has advanced test equipment and a team of excellent mechanical engineers.
We also ensure the stability and traceability of the spare parts, so as to get excellent products with superior quality.
Through strict quality management, the factory controls potential quality risk from the beginning to the finishing of machines.
Packaging and shipment
1.Anti-collision package edge: All parts of the machine are covered with some soft materials, mainly the use of pearl wool
2.Fumigation wooden box: Our wooden box is fumigated, do not need to check the wood, saving the transport time.
3.Whole film packaging the machine: Avoid all damage that may occur during the delivery. Then we will cover the machine with plastic film tightly to avoid water and rust. The outermost is a wooden box with a fixed template.
FAQ
Q: There are so many machine types, which one should I choose?
A: Please communicate with us via inquiry or email, we can guide you.
Q: This is my first time buying your machine; I have no ideas about your machine's quality?
A: Each machine is strictly produced based on standard certifications. We are confident to tell customers that there is no need to worry about our quality. Welcome you visit our factory anytime
Q: When I got this machine, but I don't know how to use it. What should I do?
A: There are video and English manuals with the machine. If you still have any doubts, we can talk by telephone. we supply 24 hours online service.
Q: If some problems happen to this machine during the warranty period, what should I do?
A: We will supply free parts during the machine warranty period if the machine has some problems. While we also supply free life long after-sales service.
Q: Machine delivery time?
A: Within 20-30 working days after get your payment.